The Intelligent Transportation System (ITS) is based on networked information and communication technologies to improve traffic safety, comfort, and road transportation efficiency by optimizing traffic management and efficient use of roads. According to reports, in the Advanced Safety Vehicle (ASV) concept, Japan has summarized the important driving support systems required by ITS to include the following aspects:
This article refers to the address: http://
* Support system to prevent collision of obstacles in front;
* Prevent dangerous speed support systems from entering corners;
* Brake and use workshop distance control ACC (full speed domain control) system;
* Prevent the out of the line support system;
*Maintain the line support device;
* Prevent collision of dead angle obstacle systems around the vehicle;
*Light follower system (A FS);
* Collision-predicted damage reduction system;
* Pedestrian injury reduction and airbag system;
*Dleeking alarm device;
* All seat belts use the advisory device;
* rear side and side information providing devices;
* Emergency brake information providing device;
* Night pedestrian information providing system;
The construction of the above system requires various sensors for road environment and vehicle condition detection as well as various control devices for information provision, alarm and operational support. In addition, Telematics, which is compatible with ASV road traffic and communication information systems, must meet two communication needs: 1. Coordination with road information; 2. Coordination with communication systems. Therefore, car-centric information and communication technology, advanced driving control systems and environmental identification systems are the next hot spots in the development of automotive electronics. One of the core technologies is advanced wireless communication technology.
This paper attempts to provide an overview of the role of advanced in-vehicle wireless communication technologies in the development of intelligent transportation systems to technicians in the automotive, semiconductor and communications industries in China, thus providing a reference for the technological upgrading of the Chinese automotive electronics industry.
Car wireless gateway provides uniform
Information communication platform
Currently, leading car manufacturers have begun to develop information service systems and information communication systems for drivers. For example, the Chrysler Group and Hughes Telematics announced that they will provide telematics systems that combine infotainment, security and remote diagnostics. Ford will offer cars with Bluetooth and Microsoft operating systems. Autonet Mobile also plans to introduce technology that provides Internet access to vehicles.
Building these systems is expected to bring new added value to manufacturers, retailers, consumers, navigation service providers, and content originators. For example, terrestrial and satellite-based technologies will provide information communication services for security, privacy, infotainment, remote diagnostics, maintenance notifications, and multicasting, ultimately making it possible to remotely upgrade in-vehicle systems. As shown in Figure 1, the next generation of intelligent transportation systems will be based on advanced mobile communications, satellite communications and the Internet. .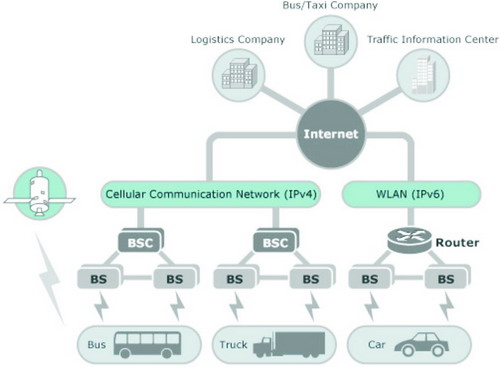 Figure 1 Internet-based intelligent transportation system needs to establish a complete vehicle information communication system
Image source: Hitachi
As is apparent from the above figure, wireless communication technology will play an important role in the intelligent transportation system. Renesas Technology experts pointed out (Figure 2) that in order to meet the needs of wireless-based information communication systems, an intelligent traffic electronic control unit (ITS ECU) is expected in the car, which uses WLAN and dedicated short-range communication (DSRC, Dedicated Short). Range Communication) enables communication between the car and the car, and between the car and the road. It is conceivable that 3G wireless communication has broad application prospects, and will not be described here.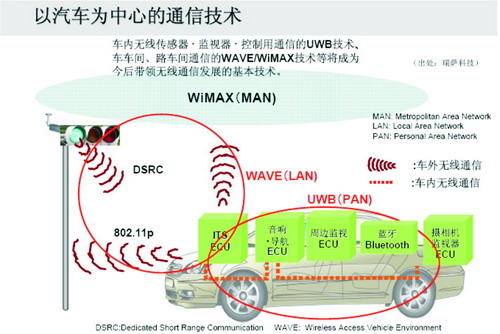 Figure 2 Automotive-centric wireless communication technology
Image source: Renesas Technology
It is worth noting the development trend of DSRC technology. Internationally, the DSRC standardization system is divided into three camps: Europe, America and Japan. In Europe, the CEN/TC278 standard is adopted, and the Japanese adopts the ISO/TC204 standard. They all choose 5.8 GHz as the DSRC communication frequency. The United States is gradually shifting the frequency of automatic vehicle identification applied in the intelligent traffic field to 5.8 GHz to 5.9. The GHz system, the FCC (Federal Communications Commission) also officially approved the 5.9 GHz band for dedicated short-range communications. China currently uses the 5.795-5.815 GHz ISM band from the ISO/TC204 International Organization for Standardization Intelligent Transportation System Technical Committee (domestic number SAC/TC268). At present, the 2.45 GHz system is relatively small in application and does not form a mainstream.
Traditionally, DSRC is a technology used in the field of ITS intelligent transportation systems for motor vehicles to realize EFC (Electronic Fee Collection) at the toll point such as highways, that is, long-distance RFID radio frequency identification (also known as electronic label E- Tag). The DSRC standard mainly involves two types of equipment: roadside equipment RSU (Road-Side Unit) and in-vehicle equipment OBU (On-Board Unit). It is through the roadside equipment RSU and the in-vehicle equipment OBU to establish communication, so that the motor vehicle equipped with OBU realizes the vehicle and the road when passing the gantry with the RSU antenna at the medium speed (50~60Km/h). Data exchange of the edge device RSU.
Internationally, Matsushita Electric exhibited a new generation of ITS in-vehicle equipment supporting the DSRC in the 5.8 GHz band at CEATEC JAPAN 2006. This communication system extends the range of DSRC applications that have been used in EFC to other services and safe driving assistance, such as , receiving traffic congestion information, and so on. The product is expected to be put into practical use in 2007.
In addition, the introduction of DSRC chip solutions are OKI Industry, Dongguang and TransCore. Take the Modem developed by TransCore as an example. In addition to its dedicated short-range communication function, it can also realize long-distance GPS and satellite communication functions. According to reports, the Modem GPS accuracy of up to 1 meter, and provides a multi-channel communication channel with the car, can provide security services to the vehicle, and has an automatic warning function, and is not subject to geographical restrictions. This technology will enable automotive OEMs to develop complete preventive safety systems with automatic fire alarms and collision avoidance.
The use of DSRC technology to avoid collisions between cars is a cutting-edge technical research goal. The industry believes that the construction of the DSRC infrastructure network is a very long process, which provides an important opportunity for the Chinese semiconductor industry to develop a unified wireless gateway with WiMAX, DSRC, GPS and even cellular telephone communication functions to promote the development of intelligent transportation systems. It is foreseeable that the future car will become a mobile communication platform connected by wireless network anytime and anywhere.
Building intelligent driving control system with millimeter wave radar and image sensor
According to research by Japan's Hitachi, Japan and the West are working hard to develop more advanced safety technologies with the goal of reducing annual traffic accidents and disasters by 30% to 50%. To this end, a new type of driving control is to be developed. System, the main features of this system include:
*Adaptive Cruise System (ACC);
*Precrash Safety System;
* Stop-And-Go control system;
* Lane Keeping System (LKS);
In order to achieve the above functions, a series of environmental recognition sensors based on millimeter wave radar, image processing cameras, and new brakes, steering wheels and other subsystems are required. One of the key radio technologies is the millimeter wave radar sensor.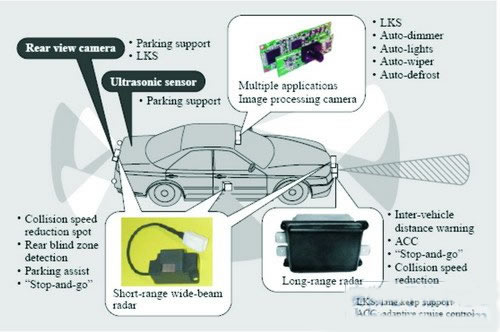 Figure 3 Application of environmental identification technology in automobiles
Image source: Hitachi
At present, international automotive semiconductor manufacturers have made a series of breakthroughs in millimeter wave radar devices. For example, Freescale Semiconductor has demonstrated a radio frequency (RF) chip for the 77 GHz band millimeter wave radar using silicon germanium (SiGe) technology. The chip is mainly used for the detection of the distance between the car and the car, and the collision detection safety system. At the same time, Freescale has developed a millimeter-wave radar module that packages RF chips with interface ICs and microcontrollers, as well as small antennas designed to miniaturize the module. Since the universal millimeter wave radar will become an indispensable equipment in the future, it is said that the company will continue to develop all technologies of the millimeter wave radar in the future.
In addition, Nippon Wireless has successfully developed a VCO for the vehicle-mounted millimeter-wave radar using the 76 GHz band. After the microstrip line-based circuit is formed on the AlN substrate, the VCO is formed by surface-mounting the Gunn diode and the varactor. Murata also introduced a VCO with a dielectric oscillator and an oscillation frequency of 38 GHz. Kyocera recently introduced two ceramic antennas for the millimeter wave band, such as wireless communication in the 60 GHz band and in-vehicle radar in the 76 GHz band.
In the actual use process, the radar system and the yaw rate sensor are integrated and designed behind the front grille. Successful examples include: Delphi's new cruise control system millimeter-wave radar with a maximum detection angle of 15 degrees; the Lexus LS460 uses millimeter-wave radar and cameras to achieve obstacle recognition in the front of the vehicle and rear vehicle identification; Hino's standard for the Profia model With the rear-end mitigation braking system, it uses the millimeter-wave radar to determine the risk of rear-end collision, emits an alarm sound and starts the brake, and mitigates the collision by the rear-end collision avoidance safety system in the brake system.
Since the electric wave generated by the millimeter wave radar can penetrate the human body and cause adverse health effects, the millimeter wave radar has limitations in detecting obstacles, such as the inability to detect pedestrians as obstacles, etc. technology. In this regard, NEC has seized the "prevention and collision safety" system market in half of the Japanese market. The company uses the in-vehicle image recognition parallel processor to perform comprehensive processing by combining information from multiple sensors such as millimeter-wave radar and camera. The distance and speed of the three-dimensional object, such as the vehicle in front and the pedestrian, alert the driver to reduce the damage caused by the collision. Therefore, it represents one of the development directions of environmental recognition technology. FIG. 3 is a schematic diagram of an environment recognition technology based on millimeter wave radar and image sensor used in an automobile.
Conclusion
With the development of intelligent transportation systems and the increasing demand for information communication by drivers, the demand for wireless communication technologies between roads and between vehicles and vehicles is increasing.
In comparison, traditional car radios—radio, GPS, remote keyless entry, TPMS, and GSM/GPRS devices—are relatively independent radios. In the intelligent transportation system, wireless communication technology, vehicle-mounted vehicle computing platform, information display system and driving control system are organically combined to form a unified ITS ECU or telematics platform, which will propose more radio communication technology. High requirements, the biggest challenge in the design process is how to integrate radio communication devices of different standards and frequencies. Here, software radio technology will have unlimited application space.
Since the construction of intelligent transportation systems involves a wide range of industries, it is necessary for automotive manufacturers to conduct extensive cross-industry collaboration with industries such as automotive electronics, semiconductors, communications, software design and content delivery. In addition, the country's industrial policy support and the guidance of relevant standards are also crucial.
references:
1. 'Trends in Drive Control Systems and Hitachi Group Initiatives,' Hitachi.
2. 'Application and Development of Renesas Automotive Electronics Technology', 2006 Automotive Electronics Shenzhen Technology Forum Summit Speech Collection
3. Yi Hanwen, 'American Intelligent Transportation 10 Year Development Plan'
4. China Electronics News,
5.
6. Lu Jingjian, 'Overview of New Technologies in Automotive Computing Platforms', Electronic Products World Automotive Technology Platform New Technology Overview - Lu Jingjian.pdf
7. 'Important Concept of Urban Traffic: Integrated Public Mobile Information Service System', Electronic Products World /Bookmark/zhai.aspx?bookmarkid=187
8. Zou Zhiyong, 'Intelligent Drive and Control Technology Brings Revolutionary Changes to Car Driving Safety', Electronic Products World, First Half of October 2006, Page 114
Plastic Coated Electric Kettle
The original stainless steel double wall Electric Kettle. This kettle comes with 100% stainless steel interior. Outside made by plastic for protect your hand in case that the hot stainless steel will scald your hand. No plastic in contact with hot water. The spacious kettle has a volume of 1.8 liters which give ample space to boil tea, coffee or soups in minutes. Lets you boil a huge quantity of liquid at a time and helps save time and electricity.
· Stainless Steel Body With Plastic Outside: Ergonomic in design, the electric kettle has a sturdy handle with smart contours to make your grip a firmer one. The stainless steel finish gives a glossy feel and boasts a rust-free performance. This stainless electric kettle comes with a convenient spout so that liquid can be easily poured from it directly into a container. It avoids any spillage and thus prevents your kitchen from getting messy.
· 360 degree rotational body with separated base: Enjoy the ease and convenience of cord-free serving with this stylish stainless steel kettle. Perfect for placing on the table for gatherings or leaving on the base for worry-free hot water any time of day.
· Automatic shut off when water boils or dry: This overheat safety protection feature of the electric Kettle helps to prevent hazardous accidents. The cordless electric kettle switches off if the water inside the kettle dries up. It also saves on electricity as it uses very less power.
· Lightweight and Portable: Carry your kettle anywhere to enjoy a warm cup of coffee or tea away from your home. Kettle not only looks good but maintains a high standard in terms of durability. Lightweight and its small dimensions snugly fit in your bag. Portable and small in size, this electric kettle makes a perfect travel companion.
· Cool touch Exterior: With out cool-touch design. You`ll be able to touch the outside of the kettle even when it`s boiling. There`s no risk of getting accidentally burnt, so it`s perfect for homes with young children.
Application:
Enjoy your coffee.
Cook egg for morning.
Boil some lemon tea
Plastic Coated Electric Kettle
Plastic Coated Electric Kettle,Household Plastic Kettle,Colorful Water Kettle,Auto Shut-Off Electric Kettle
Guangzhou Taipeng Electrical Appliances Technology CO., LTD. , https://www.kettles.pl