According to the Hong Kong Ta Kung Pao, Hong Kong citizens can enjoy more comfortable light when they take the MTR in the future. Following the installation of light-emitting diode (LED) lighting system devices for the three trains at the beginning of last year, MTR Corporation has announced that it will further expand LED environmental protection lighting. The energy saving plan is to a total of 136 trains of MTR trains and 129 advertising light boxes.

At the beginning of last year, the MTR spent HK$4 million to test the LED green light test on the subway trains in Hong Kong Island, Tsuen Wan and Tseung Kwan O. The MTR concluded that the tests received good results. Apart from saving energy, LEDs The life of the lamp is four times higher than that of the conventional light pipe, up to 50,000 hours, and only need to change the chip when replacing, it will not release mercury and make light pipe waste. At the same time, the LED light is closer to natural daylight and does not emit ultraviolet light, which protects the eyes of passengers and is widely welcomed by passengers during the test.

In view of this, the MTR has decided to further expand the energy saving scheme to the 136 trains of the urban and Airport Express, including the Kwun Tong Line, Tung Chung Line and the Airport Express. Ms. Jin Zepei, the head of the MTR Corporation's vehicle maintenance project, said that the project is currently undergoing tendering and the installation is expected to be completed in 2013. It is expected to reduce the annual carbon monoxide emissions of the MTR by 1,800 tons.

In addition to the LED lighting system, the MTR will also conduct LED testing for 129 advertising light boxes at Rainbow and Hung Hom Station starting from the first quarter of this year. The project is expected to be completed by the end of this year. MTR expects the use of advertising light boxes. LED lighting can narrow the thickness of the light box to 80 millimeters, which is more space-saving than the traditional 150-mm light pipe light box. If the individual LEDs in the advertising light box are damaged, they can be replaced one by one, without the need to dispose of the whole, reducing waste. The production.

However, the MTR also said that since the cost of LED systems is higher than that of ordinary light pipes, the MTR train LED energy-saving plan mainly takes advantage of power saving and environmental protection. In the long run, its cost is similar to that of traditional light pipe lighting systems.




Radiation XLPO insulated Control Cable is not cross-linked by normal chemical cross-linking material under high temperature and high pressure, but cross-linked by high energy electron accelerator or rays. That is why radiation XLPO insulated control cables get higher electrical property, excellent flame retardant property, Stronger mechanical property, they are also with better resistant to heat-aging, scratching, abrasion, oil, melting, and environmental stress crack. The most common material used for radiation cross-link cables are PVC, XLPE.
Product features
Long-term temperature: Up to 125℃
Conductor: OFC copper
Heat-resistant level: 90℃,105℃,125℃
Rated voltage: Up to 0.6/1kV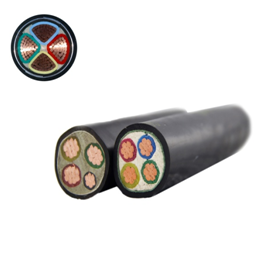 Application
This cable is used in control system, electrical equipments and instruments, especially suitable for high temperature and fire retardant condition.
FAQ
Q: Are you a factory or trading company?
A: We are a manufacturer. We are professional in developing and producing electrical wires and cables since 2001.
Q: Can I visit your factory?
A:Yes! You are welcome to visit our factory for further detail check.
Our factory is located in Minqing,Fujian.You could choose to fly to Xiamen/Fuzhou International airport. And tell us your flight No. We will arrange to pick you up if you like.
Q: May I buy samples from you?
A: Yes! You are welcome to place sample order to test our superior quality and services.
Q: Can you put my brand name (logo) on these products?
A: Yes! Our factory accepts to print your logo on the products.
Q: May I know the status of my order?
A: Yes .The order information and photos at different production stage of your order will be sent to you and the information will be updated in time.
To receive a quote, further information or advice, Leen Cable invites you to contact us.We believe we will become your best partner in electrical cables and wires services.
Radiation XLPO Insulated Control Cable
Radiation XLPO Insulated Control Cable,Copper Screened Control Cables,Armoured Shielded Control Cables, Shielding XLPE Control Cable
Fujian Lien Technology Co.,Ltd , http://www.liencable.com